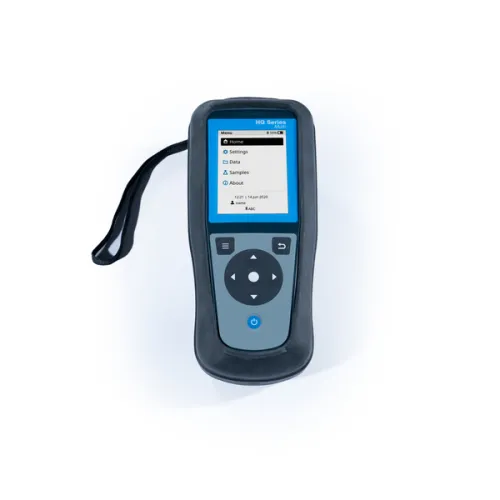 HQ 1110 PORTABLE PH METER HACH
HQ1110 PORTABLE PH METER HACH
( PH/mV/Temp ) single Channel
Cat LEV015.97.1110A

Applications :

• Drinking Water
• Wastewater
• Food and Beverage
• Industrial Water
• Power
• Source Water


Specifications :
Memory Data 5000 data points
Display 536x336 Mono-TFT
Dimensions 63 x 97 x 220 mm
pH Meas Range 0 - 14 pH
Operating Temp 0 - 60 °C
ORP Electrode Cal Predefined ORP standards (including Zobell's solution)
Parameter pH/Oxidation Reduction Potential (ORP)
pH Buffer Sets Colour-coded: 4.01, 7.00, 10.01 pH;
IUPAC: 1.679, 4.005, 7.000, 10.012, 12.45
DIN: 1.09, 4.65, 9.23
User-defined custom buffer sets
pH Electrode cal 1 - 3 Calibration points
Calibration summary data logged and displayed
pH Resolution Selectable
Storage conditions -20 - 60 °C, max. 90% relative humidity (non-condensing)
Temp Compensation Automatic Temperature compensation for pH
Temp Measurement °C or °F
Temp Resolution 0.1 °C
Type of meas Field Measurements
Enclosure Rating IP 67
Data Storage Automatic in press to Read Mode and Interval Mode.
Manual in Continuous Read Mode
Data Export USB connection to PC or USB storage deviced limited to
the storage/ device capacity.
Software available
Display Up to 3 parameters at a time, dependent on HQ model
Backlight Yes
Lock Function Continuous / Auto-stabilization ("press to read") / At Interval
Certifications CE, FCC, ISED, RCM, KC, ETL Verified: US DOE/ NRCan Energy
Efficiency, RoH
GLP Features Date; Time; Sample ID; Operator ID, Calibration
Power Supply Rechargeable lithium-ion battery 18650 (internal) Class II, USB
power adapter: 100 - 240 VAC, 50/60 Hz input; 5 VDC at 2 A
USB power
Weight 519 g (Meter only)

What's included?
HQ1110 Portable pH/ORP Meter, 1 channel, includes manuals, Li-Ion batteries, USB charger with Power Cable.